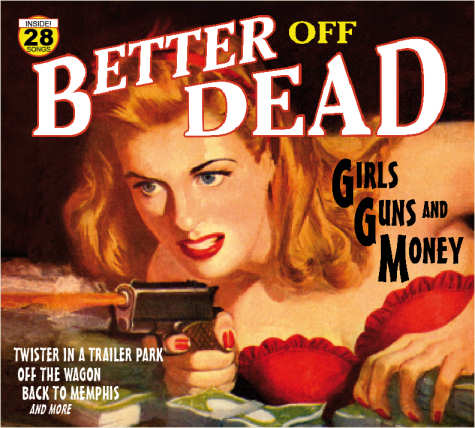 Buy CD's here or download MP3's online: click here for itunes or here or here.
Girls, Guns and Money
Girls, Guns and Money, Better Off Dead's third album is 28, count 'em, twenty eight powerful shots of tuneful Tanqueray 'n' tonic that'll have you out on a marvelous musical bender way past last call and into the next morning.
-------
Better Off Dead
If you're a Better Off Dead fan or just curious, this site will learn you real good. You can go to the press section and read what writers for some national magazines have to say about the band. The official poop on the band can be found in the bio section or you can read about the band members. If you want to see the band live, the schedule will keep you up on live show dates. Of course Better Off Dead do have music for sale which you can securely buy online at CD Baby.com and have delivered safely to the comfort of your home or office without the endangerment of having beer spilled on it. Also worth pointing out is that all profits from the sale of their CD's and MP3's go to a worthy cause, mainly keeping the band alive! If you want, you can join the mailing list, contact the band via e-mail, facebook, or even check out their old-fangled myspace page. And for those of you who've got a lot of free time on your hands, you'll find photographs, flyers, etc. in the cleverly named pictures section. And if you're looking for the King Family Christmas CD, it's right here. Enjoy!