CD Featuring All New Holiday Recordings
Click here to buy at CDBaby.com
All proceeds go to charity to help displaced musicians in post-Katrina New Orleans

A King Family Christmas

When producer V.D. King, of the Jersey City, NJ blues/roots band Better Off Dead, decided to record a charity Christmas CD to benefit displaced musicians in post-Katrina New Orleans, he called in some musical favors from a few friends. A King Family Christmas was born. With all proceeds going to Tipitina's Foundation(www.tipitinasfoundation.org) and the Jazz Foundation (www.jazzfoundation.org), A King Family Christmas is a great gift to both give and receive. When you buy A King Family Christmas CD, you're really getting free holiday music as a thank you for giving less fortunate folks a helping hand.
Recorded over a few hours in a living room and a Hoboken, NJ blues bar, A King Family Christmas features fourteen hot, heaping helpings of holiday hits from top NY area blues and roots artists including: Popa Chubby & Galea, Christine Santelli, Arthur Neilson & Karan Serafin, Big Ed Sullivan, Joe Taino, The Slippery Chickens, Kevin Kiley, Dave Gross, Larry Cappoli, Mike Frensley, and, of course, V.D. King's own Better Off Dead.
From the spirit-swigging swizzle of Better Off Dead's double shots "All I Got for Christmas Was Drunk" and "Alcoholiday," to the snarling, supercharged, sleighride swagger of Popa Chubby & Galea's "Blue Christmas," to the wonderfully whimsical wordplay of Christine Santelli's "Christmastime," there's something for everyone under the musical tree this Christmas. Karan Serafin, along with Shemekia Copeland guitarist Arthur Neilson deliver a righteous, rollicking romp of "Rockin' Around The Christmas Tree," Kevin Kiley croons the classic chestnut "White Christmas," and The Slippery Chickens stuff your stocking with their Cramps-inspired "All I Want For Christmas Is You." New York blues mainstay Big Ed Sullivan offers up the gritty, grey-snow-in-the-city blues of "Merry Christmas, Baby," while Santa's super string slingers Joe Taino, Larry Cappoli and up-and-coming ace axe-swinger Dave Gross all have fast-fingered holiday treats with all the trimmings.
Click here to buy at CDBaby.com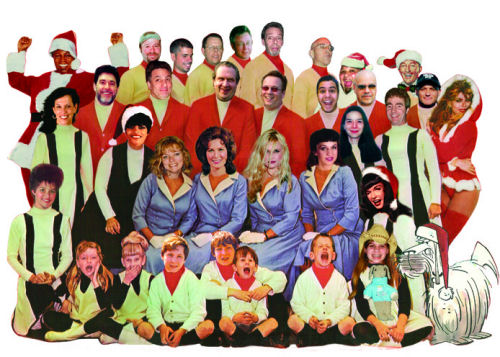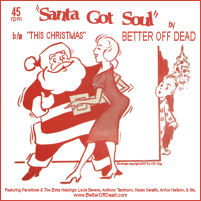 New 2007 Christmas single!
Santa Got Soul
b/w This Christmas